Saturday August 16th
Rainier Valley Heritage Parade – 12:00pm to 1:30pm
Rainier Ave, between S Brandon & Alaska 98118 – Take the Lightrail to the Columbia City station and walk east 3 blocks to Rainier Ave S.
Parade Theme: Heritage
Making Rainier Ave your playground for a day! Celebrate the cultures of Seattle's most diverse neighborhood during this weekend festival with a parade, street party, park entertainment and fun. Enjoy food, games, music, and friends from around the world! Parade features entertainment that will delight with "heritage" as the theme and Summer Streets Party will emphasize "Re-imagine your Street" with music, art, food and playful fun right down the middle of Rainier Ave!
Seattle Summer Streets Party – 1:30pm to 5:30pm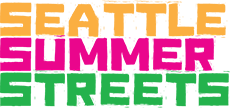 Seattle Summer Streets is a series of events occurring between May and September that open up the city's largest public space – our streets – for people to have fun, discover active and healthy transportation choices, connect with neighbors, and support local businesses. 2014 marks Summer Streets' seventh year!
The idea is simple – open a street for several hours for people to walk, bike, shop, and explore their community in a new way.
Join us for the annual Heritage Parade from Noon – 1:30 PM, then come play with us at Summer Streets. We'll open up Rainier Ave S (from S Alaska to S Brandon St) to people on foot and bike! With live music all day, fun activities for kids and families, a beer garden and even a pie eating contest!
Get involved – volunteer, put together a fun activity, or help sponsor the event.
Added fun:
Re-imagining Your Streets
Music Stages
Small plates
Games
Bicycling
Art in the Alley
Family friendly fun
Pie Eating Contests
Cinema under the Stars in Columbia Park
Blues Fest
Sunday August 17th
Othello Park International Festival – 12:00pm to 6:00pm
Othello Park (4219 S Othello St Seattle 98118) – Take the Lightrail to the Othello Station, walk east 1 block on Othello.
Click here for a full lineup and more information!
Sunday's Othello Park International Music and Arts Festival includes entertainers representing many different SE Seattle cultures, beginning at noon with the Recess Monkey and including Somali performers, Vietnamese lion dancers and martial arts! Then go on to enjoy a hands-on art experience, bouncy houses and games with prizes for kids, as well as great inexpensive food, interesting vendors – and a camel!
In a grassy meadow under big, old trees at the 8th annual Othello Park International Music and Arts Festival from noon until 6:00. A world of ethnic variety will convene with music, dancing, food, art activities, and booths. Of course, there will be Othello's traditional petting zoo complete with camel, and his multicultural furry friends.
Then you will want to be up and about visiting the array of tents and booths and sampling Rainier Valley's colorful diversity of businesses and organizations. One large tent on the green will shelter the Festival's traditional "Art Creation Station" to engage those young in age and young at heart, in a variety of hands-on visual art activities led by local artists.
Added fun:
Music Stage
Dance Stage
Food Trucks
Creation Station and Crafts
Games
Bouncy Houses
Community Organizations